Upcoming Auditions for "Baggage"
A Romantic Comedy written by Sam Bobric, directed by Joseph Wright.
Courtesy of Samuel French.
Run Dates:  Mar. 6, 7, 12, 13, 14, 15, 19, 20, 21.
Needed:  Two women, two men, age ranges 30-something and up.
Audition Dates: January 10th & 11th from 2:00 pm – 4:00 p.m.
Phyllis and Bradley are both trying to heal from their respective disappointing relationships but get their luggage mixed up at the airport. After a very disagreeable first encounter, the two decide to help each other get over their heartaches by forcing a friendship that eventually leads to the two discovering that while they may be too difficult for everyone else in the world, they are perfect for each other.
"The show arrives at its final destination intact with plenty of laughs…" – Marconews.com
Rating: All Audiences, mild adult themes.
For questions, contact the director, Joseph Wright at alphametis@gmail.com.
_________________________________________________________________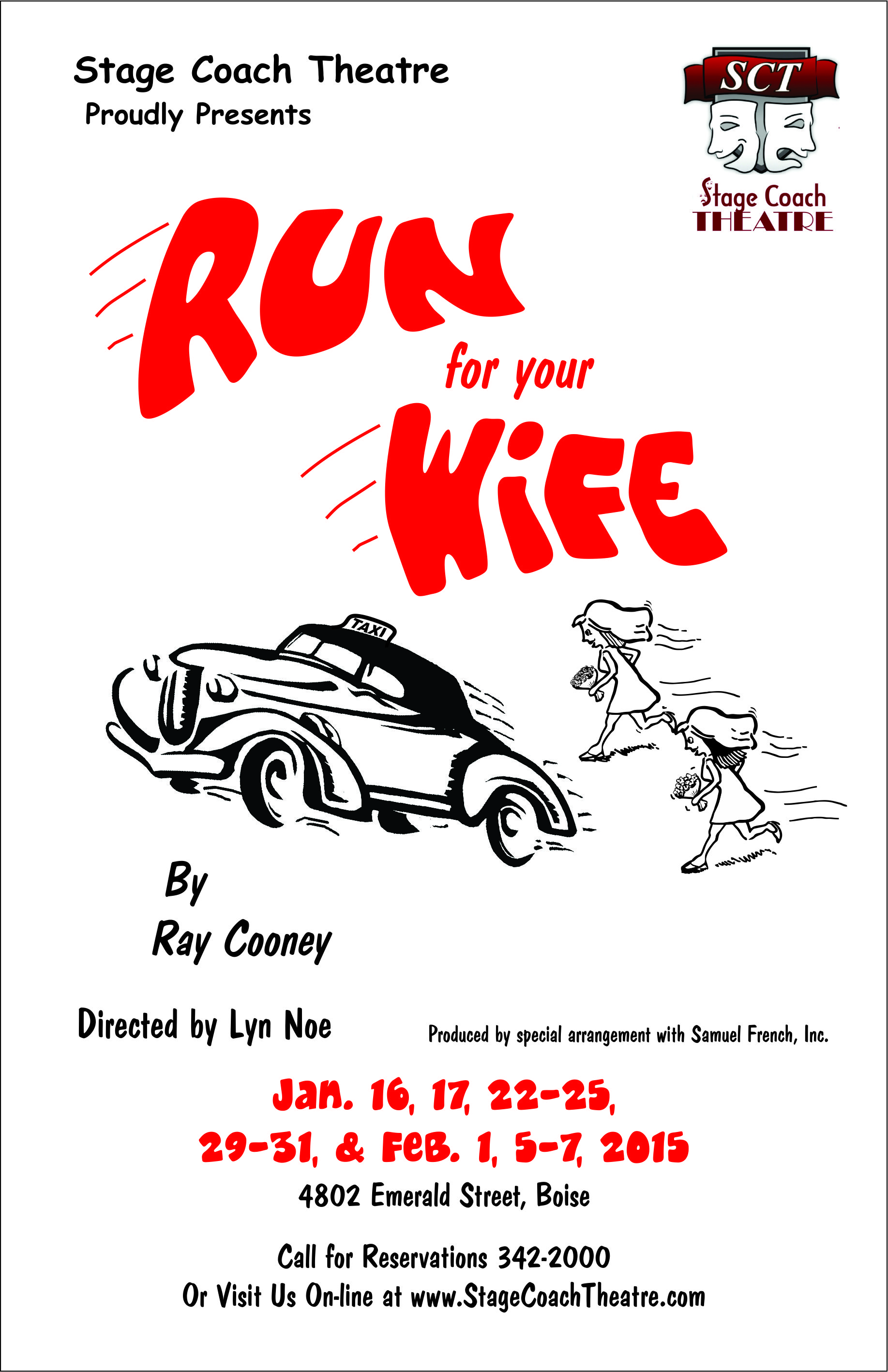 "Run for Your Wife" Opens January 16th!
A British farce written by Ray Cooney, directed by Lyn Noe.
Courtesy of Samuel French.
Run Dates: Jan. 16, 17, 22, 23, 24, 25, 29, 30, 31, Feb. 1, 5, 6 & 7
A taxi driver gets away with having two wives in different areas of London because of his irregular working schedule. Complication is piled upon complication as the cabby tries to keep his double life from exploding after his car accident starts overlapping two different lives.
"Virtually continuous laughter." – The New York Post
"I was exhausted from laughing so hard." – WMCA-Radio
Rating: All audiences but some adult situations.
A full bar is available as drinks can be enjoyed throughout the play.
Online ticket purchasing through EventBrite at http://www.eventbrite.com/org/2762190930
Eventbrite sales close two hours prior to each performance. Tickets may be available to purchase at the box office after this time.
Online Reservations: By e-mail request at sct_showtix@outlook.com .
Voicemail: Currently, we offer reservations by voicemail at 208-342-2000.
Join our newsletter at www.stagecoachtheatre.com.
Cast and Crew for "Run for your Wife":
John Smith – Gene Chandler
Stanley Gardner – Curtis Ransom
Mary Smith – Sheila McCoy
Barbara Smith – Corrie Winterholler
Detective Troughton – Shelley Ward
Detective Porterhouse – Jim Hansen
Stage Mgr./Reporter – Sam Hansen
Bobby Franklin – Jim Klepacki