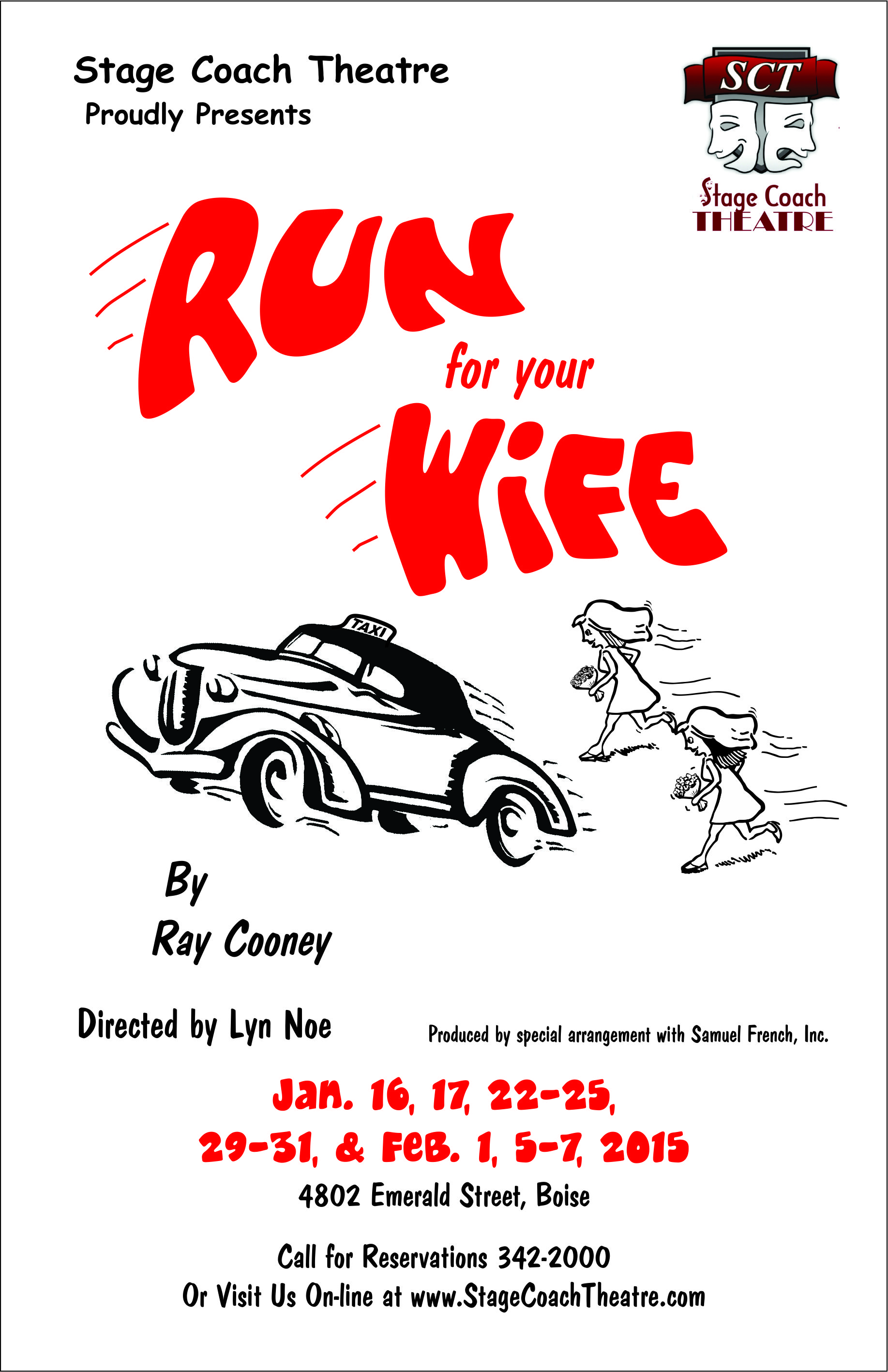 "Run for Your Wife" Opens January 16th!
A British farce written by Ray Cooney, directed by Lyn Noe.
Courtesy of Samuel French.
Run Dates: Jan. 16, 17, 22, 23, 24, 25, 29, 30, 31, Feb. 1, 5, 6 & 7
A taxi driver gets away with having two wives in different areas of London because of his irregular working schedule. Complication is piled upon complication as the cabby tries to keep his double life from exploding after his car accident starts overlapping two different lives.
"Virtually continuous laughter." – The New York Post
"I was exhausted from laughing so hard." – WMCA-Radio
Rating: All audiences but some adult situations.
A full bar is available as drinks can be enjoyed throughout the play.
Online ticket purchasing through EventBrite at http://www.eventbrite.com/org/2762190930
Eventbrite sales close two hours prior to each performance. Tickets may be available to purchase at the box office after this time.
Online Reservations: By e-mail request at sct_showtix@outlook.com .
Voicemail: Currently, we offer reservations by voicemail at 208-342-2000.
Join our newsletter at www.stagecoachtheatre.com.
Cast and Crew for "Run for your Wife":
John Smith – Gene Chandler
Stanley Gardner – Curtis Ransom
Mary Smith – Sheila McCoy
Barbara Smith – Corrie Winterholler
Detective Troughton – Shelley Ward
Detective Porterhouse – Jim Hansen
Stage Mgr./Reporter – Sam Hansen
Bobby Franklin – Jim Klepacki
_________________________________________________________________________________________________________________________________________________________
Auditions for Murder at the Howard Johnson's
An American Farce written by Ron Clark and Sam Bobrick, directed by Don Mummert.  Courtesy of Samuel French.
Run Dates:  April 17, 18, 23, 24, 25, 26, 30, May 1, 2.
                                                                                                                                                                       Audition Date: 2/15/15
All is fair in love? Even murder? That's the question posed by this funny suspense comedy about a love triangle in a Howard Johnson Motor Inn. In the first scene the wife and her lover plot to murder the husband. In the second scene the wife and her husband reconcile and of course plot to murder the lover. The third scene has the husband and the wife's lover finally concluding that the wife is the cause of all of this mess and so… they plot to murder the wife. You'll have to see how it turns out!!!
"Enough laugh lines, mirth provoking situations and extravagant sight gags to outfit two rapid fire farces… -Variety
Rating: All Audiences, mild adult themes.
For questions, email the director Don Mummert at donpa@juno.com
_________________________________________________________________________________________________________________________________________________________

The Comedy "Baggage" Opens March 6th
A Romantic Comedy written by Sam Bobrick, directed by Joseph Wright.
Courtesy of Samuel French.
Run Dates:  Mar. 6, 7, 12, 13, 14, 15, 19, 20, 21.
A Mismatched Comedy of Romance.
Run Dates: March 6, 7, 12, 13, 14, 15, 19, 20 and 21.
Ah, romance! The happy endings: dashed. The class reunion buffets: devastated. The rules: broken. The building staffs: flashed. But let's face it, who hasn't accumulated a little baggage by the time they're 30-something?
With three less-than-stellar relationships behind her, Phyllis Novak decides to turn from The Man Most Likely to The Man Least Objectionable, and to build, if not love, at least tolerable companionship. When an airline luggage snafu is untangled, Bradley Naughton, dumped his ex and so far down there is nowhere to go but up, becomes the man Phyllis is determined to edit to her liking.
Encouraged by serial divorceé and free spirited best friend Mitzi, and discouraged by self-styled relationship guru Dr. Alexander, do Phyllis and Bradley have any hope to get beyond their disappointing pasts and what-can-they-be-thinking present to be, if not in love, at least in like?
Laughs guaranteed, matching luggage optional!
"The show arrives at its final destination intact with plenty of laughs…" – Marconews.com
Rating: All Audiences, mild adult themes.
Written by Sam Bobric, directed by Joseph Wright. Courtesy of Samuel French.
Cast:
Corina Monoran as 'Phyllis Novak'
Paul Kersey as 'Bradley Naughton'
Kristy Lussier as 'Mitzi Cartright'
Rick Lopez as 'Dr. Jonathan Alexander'