"The Curious Savage"

by John Patrick
Directed by Doug Clemens
"The Curious Savage" is the story of an elderly widow named Mrs. Savage, whose husband has left her $10 million dollars. She intends to give the entire fortune away to people who wish to pursue their "foolish dreams," but her stepchildren strongly object. To prevent her from doing away with their family's wealth and ruining their legacy, they have her committed to a sanatorium called The Cloisters, and it is among the gentle residents there that she finds her true family. "The Curious Savage" is a warm comedy that compares the kindness and loyalty of psychiatric patients with the greed and hostility of so-called "normal people."
Curious Savage is rated Family Friendly.
Aug 26-27, Sept 1-4, 8-10. Matinees available on Sept 4 and 10.
---
"Evil Dead the Musical"
Book and lyrics by George Reinblatt
Music by Frank Cipolla, Christopher Bond, Melissa Morris and George Reinblatt
Directed by Victoria Horn
This hilarious show takes all the elements of the cult classic films The Evil Dead, Evil Dead 2 and Army of Darkness and combines them into one of the craziest theatrical experiences of all time. Five college students go to an abandoned cabin in the woods and accidentally unleash an evil force that turns them all into demons. It's all up to Ash (a housewares employee turned demon-killing hero) and his trusty chainsaw to save the day. With a combination of blood, jokes, cheesy effects and killer musical numbers, Evil Dead the Musical is unlike any show you've ever seen.
Produced by special arrangement with THE DRAMATIC PUBLISHING COMPANY of Woodstock, Illinois
Evil Dead the Musical contains frequent adult language, sexual content, and graphic violence.
Oct 7-8, 13-15, 19-22, 26-29. Please note there are no matinees for this show.
---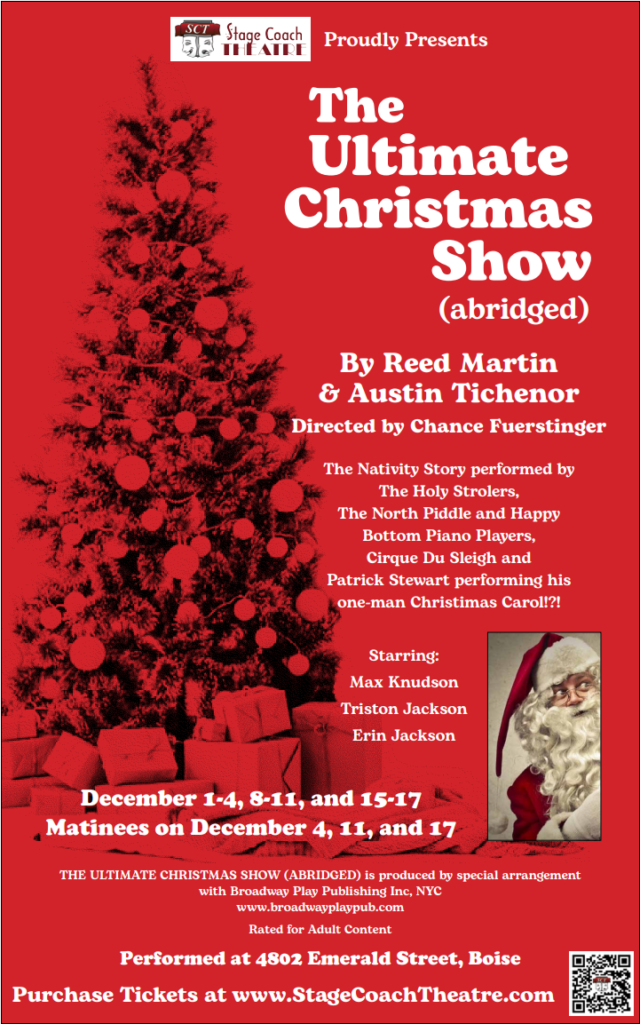 "The Ultimate Christmas Show (abridged)"
by Reed Martin and Austin Tichenor
Directed by Chance Fuerstinger
Welcome to the Annual Holiday Variety Show and Christmas Pageant at Saint Everybody's Non-Denominational Universalist Church, where all faiths are welcome because we'll believe anything. But there's a problem: none of the acts scheduled to perform have arrived, so three members are pressed into service to perform the entire Variety Show and Christmas Pageant by themselves. This irreverent yet heartwarming trip through the holidays is festive, funny, physical, family fun as these Three Wise Guys send up and celebrate our favorite holiday traditions. "Gloriously irreverent style … a Christmas pageant gone horribly, hilariously awry." —Dallas Morning News
The Ultimate Christmas Show (abridged) contains adult content
Dec 1-4, 8-11, 15-17. Matinees available on Dec 4, 11, and 17th.
---
"First Date"
Book by Austin Winsberg.
Music and Lyrics by Alan Zackary and Michael Weiner
Directed by Kelliey Black-Chavez
BOY MEETS GIRL…ON A BLIND DATE… IN A MUSICAL. Imagine you're on a blind date and your mother shows up – followed by Grandma Ida, your opinionated best friend, your therapist, and a bevy of broken-hearted exes. Throw in a soundtrack to rival the Top 40 and you've got one AMAZING evening, right?
When blind date newbie Aaron is set up with serial-dater Casey, a casual drink at a busy New York restaurant turns into a hilarious high-stakes dinner. As the date unfolds in real time, the couple quickly finds that they are not alone on this unpredictable evening. In a delightful and unexpected twist, Casey and Aaron's inner critics take on a life of their own when other restaurant patrons transform into supportive best friends, manipulative exes and protective parents, who sing and dance them through ice-breakers, appetizers and potential conversational land mines. Can this couple turn what could be a dating disaster into something special before the check arrives?
First Date is presented by arrangement with Concord Theatricals. www.concordtheatricals.com
First Date contains adult content
Jan 20-21, 26-28, Feb 2-5, 9-11. Matinees available Feb 5 and 11.
---
"The Curious Incident of the Dog in the Night-Time"
Based on the novel by Mark Haddon
Adapted by Simon Stephens
Directed by Curtis Ransom
15-year-old Christopher has an extraordinary brain: He is exceptional at mathematics but ill-equipped to interpret everyday life. He has never ventured alone beyond the end of his road, he detests being touched, and he distrusts strangers. Now it is 7 minutes after midnight, and Christopher stands beside his neighbor's dead dog, Wellington, who has been speared with a garden fork. Finding himself under suspicion, Christopher is determined to solve the mystery of who murdered Wellington, and he carefully records each fact of the crime. But his detective work, forbidden by his father, takes him on a thrilling journey that upturns his world.
Based on Mark Haddon's best-selling novel, The Curious Incident of the Dog in the Night-Time is a thrilling, heartwarming, and uplifting adventure story for every one of us. Winner of Broadway's Tony Award for Best Play!
Curious Incident contains adult situations
March 17-19, 23-26, 30-31, April 1. Matinees available March 19 and 26th.
---
"Deathtrap"
Written by Ira Levin
Directed by Jeff Thomson
In this classic comedic thriller, a washed-up playwright finds a chance to rise to the top once more, a shot he's willing to kill for. Sidney Bruhl hasn't written a hit play for 18 years when he receives a script from a former student, Clifford Anderson, that's a guaranteed success. His wife, Myra, suggests the two men could collaborate; Sidney jokes that it'd be just as easy to murder the young man and steal the script for his own. When Clifford arrives later that evening, no one–not even the visiting psychic–could predict where the dark events of the night will go. Who is innocent? Who only seems that way? A sharply funny play full of twists and turns that keep an audience on the edge of their seats.
Deathtrap contains adult situations
April 28-30, May 4-7, 11-13. Matinees available April 30 and May 7.
---
"Dirty Rotten Scoundrels"
Book by Jeffrey Lane
Music and Lyrics by David Yazbek
Directed by Taylor Vickers
This modern musical is based on the 1988 MGM film of the same name. In the exotic French Riviera, Lawrence Jameson makes his living by smooth talking rich, single women out of their money. He has been in the trade for many years and has got his technique down to a tee. But then he bumps into Freddy Benson. Freddy takes a more laid back approach, swindling women with emotional lies about his grandmother's failing health and his own economic struggles. The two men initially decide to form a double act but their egos soon clash and the French coast isn't big enough for the two of them. To settle their rivalry, they agree on a bet: the first to swindle $50,000 from the latest young heiress in town, Christine Colgate, can stay and the other must leave town. Hilarity and confusion ensue as the two men pull out all the stops to prove they are the best con man in town. Adult Situations.
Dirty Rotten Scoundrels is presented through special arrangement with Music Theatre International (MTI). All authorized performance materials are also supplied by MTI. www.mtishows.com
Dirty Rotten Scoundrels contains adult content
June 9-11, 15-18, 22-24. Matinees available June 10, 11, 17, 18, and 24.
---
"Exit, Pursued by a Bear"
A Dark Revenge Comedy
By Lauren Gunderson
Directed by Jonathan Perry
After years of abuse, Nan is finally ready to escape her marriage to Kyle. With a little help from her longtime best friend Simon (who comes dressed as a cheerleader to show his support) and an optimistic stripper named Sweetheart, Nan wants to make Kyle understand what he's done wrong before taking her final revenge. With a flair for theatrics, the group tapes Kyle to a chair after he stumbles home drunk and performs a series of scenes for him, reenacting the events in his marriage to Nan that have led to this moment.
Produced by Special Arrangement with Playscripts, Inc. www.playscripts.com
Exit, Pursued by a Bear contains adult content
July 14-15, 20-23, 27-29. Matinees available July 23 and 29.
---